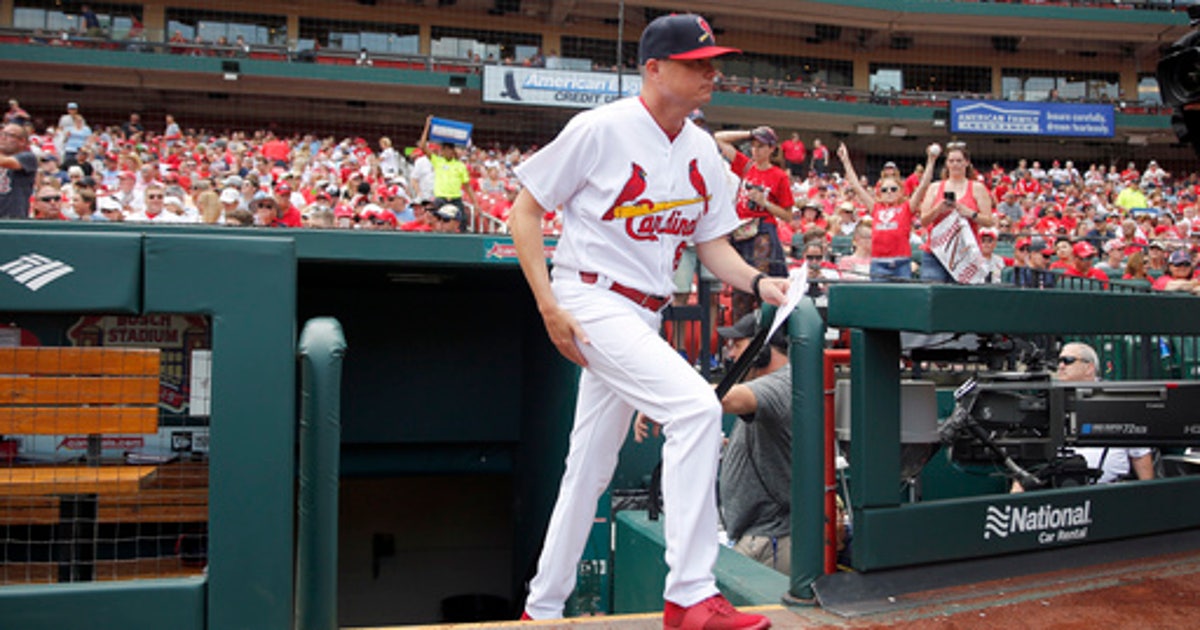 ST. LOUIS (AP) Mike Shildt was not sure what to expect on his first day as interim manager of the St. Louis Cardinals.
He certainly did not anticipate the treatment he received in a wild post-game celebration that followed the Cardinals' 6-4 victory over the Cincinnati Reds on Sunday.
"They put me in a laundry basket and they spin you around and attack you with a lot of cold water to the point where I was hyperventilating," Shildt said.
Veteran Dexter Fowler, who homered in victory, was happy to lead the lively water attack.
"That guy knows what he's doing, and he's glad to put a smile on his face and get the (first) victory for him," Fowler said.
The frivolity came at a perfect time for the Cardinals, who broke a losing streak of six games at home.
Rumors of discontent in the locker room, coupled with inconsistent play, spelled the end for manager Mike Matheny, who was fired after Saturday's 8-2 loss after more than six ns. The Cardinals went 591-474 during Mathey's tenure and made the playoffs in his first four years. But St. Louis could not make it to the postseason in the last two years.
Matheny was a gold glove receiver for St. Louis from 2000-04 and used those leadership qualities as a manager.
Veteran catcher Yadier Molina said Matheny's shot is reflected throughout the team.
"When you see what happens, it's because we, as players, are not doing our job," Molina said. "I hate to say it, but that's what it is, the fault lies with us."
Matt Carpenter and Fowler homered to lead a timely seven-hitter Tommy Pham broke a 0-020 streak with a two-run single for the Cardinals, who broke a three-game losing streak.
Cincinnati, which had won four of five, is 35-26 since the season began 8-27.
John Gant (3-3) picked up the win with four scoreless innings. of relief. He struck out four and gave two tickets.
Carpenter started the game with a homer in the first pitch, his fifth home run of the season and his 20th career. He leads the team with 19 round-trip participants.
Fowler added a single shot in the second against Anthony DeSclafani (4-2) for a 2-0 lead.
Pham erased a 3-2 deficit with a double. He runs only that he highlighted an explosion of four races in the fourth. It was Pham's first hit since July 5. He entered the game in the second inning after starter Harrison Bader left with a knee injury.
Pham, who hits .243 and Fowler (.176), have had problems at times season.
"They are guys who have shown success in this league," Shildt said. "It's definitely good for your confidence."
Shildt said he was still impressed by his new situation after the contest.
"I still do not believe it to a certain extent," Shildt said. "But it's a real moment. (I) I just played a game for the St. Louis Cardinals
Adam Duvall tied the game for the Reds with a single with two runs and bases in the fourth." José Peraza then put his team up front with a single from starting pitcher Miles Mikolas.
DeSclafani allowed six earned runs with five hits in 3 1-3 innings.
"I just was not good," DeSclafani said. "I was terrible."
Mikolas, who heads to the All-Star Game, gave up three runs and six hits in four innings in his shortest outing of the season.
Reds outfielder Jesse Winker extended his hitting streak 10 games with a career on a single in the third inning
COACHING ROOM:
Reds: RHP Homer Bailey allowed four earned runs in six innings of a rehab for Triple-A Louisville on Friday. 2 with 5.87 of effectiveness in six appearances in minor igas. He was placed on the disabled list on June 2 with inflammation of the right knee.
Cardinals: Bader suffered a knee injury while running to right field.
TOP NEXT
Reds: Cincinnati starts the second half on Friday against Pittsburgh. Right-handed pitcher Tyler Mahle (7-7, 4.02) will have the start.
Cardinals: St. Louis travels to Chicago for a four-game series against the Cubs after the break.
–
More AP baseball: https://apnews.com/tag/MLBbaseball
if (isTouch) {
// a modified copy of fsUtils / ScriptLoader leave getScript = function (url) {
// Create a new script and configure the basic concepts. let script = document.createElement ("script");
script.async = false; script.src = url;
// Attach the script label to the page (before the first script) so that the magic can happen. let firstScript = document.getElementsByTagName (& # 39; script & # 39;) [0]; firstScript.parentNode.insertBefore (script, firstScript);
}; leave googlePixelLoader = function () {
window ['google_conversion_id'] = 832239217; window ['google_conversion_label'] = "TccACP23rXkQ8ezrjAM"; window ['google_remarketing_only'] = false;
getScript (window.location.protocol + & # 39; // www.googleadservices.com/pagead/conversion.js'); }; let fbPixelLoader = function () { / * from https://fng-jira.fox.com/browse/FSCOM-12494 - Facebook Pixel Code * / ! function (f, b, e, v, n, t, s) {if (f.fbq) return; n = f.fbq = function () {n.callMethod? n.callMethod.apply (n, arguments): n.queue.push (arguments)}; if (! f._fbq) f._fbq = n; n.push = n; n.loaded =! 0; n.version = & # 39; 2.0 & # 39 ;; n.queue = []; t = b.createElement (e); t.async =! 0; t.src = v; s = b.getElementsByTagName (e) [0]; s.parentNode.insertBefore (t, s)} (window, document, & # 39; script & # 39 ;, & # 39; https: //connect.facebook.net/en_US/fbevents.js'); fbq (& # 39; init & # 39 ;, & # 39; 161811331078914 & # 39;); fbq (& # 39; track & # 39 ;, & # 39; ViewContent & # 39 ;, {content_name: & # 39; Mobile_App_Install & # 39;)); };
(function (b, r, a, n, c, h, _, s, d, k) {if (! b [n] ||! b [n] ._ q) {for (; s <_. length;) c (h, _ [s++]); d = r.createElement (a); d.async = 1; d.src = "https://cdn.branch.io/branch-latest.min.js ";; k = r.getElementsByTagName (a) [0]; k.parentNode.insertBefore (d, k); b [n] = h}}) (window, document," script "," branch ", function ( b, r) {b [r] = function () {b._q.push ([r,arguments])}}, {_ q: [] _ v: 1}, "addListener applyCode banner closeBanner creditHistory credits data deepview deepviewCta first getCode init link logout exchange references deleteListener sendSMS setBranchViewData setIdentity track validateCode ".split (" "), 0); let branchData = null; branch.init (& # 39; key_live_acdMtqDFnx4gILoc1Rq9VbckBtmjzNok & # 39 ;, function (err, data) { branchData = data; }); branch.addListener (& # 39; didShowBanner & # 39 ;, function () { let iframe = document.getElementById (& # 39; branch-banner-iframe & # 39;); let btn = (typeof iframe.contentDocument! == & # 39; undefined & # 39;)? iframe.contentDocument.getElementById (& # 39; branch-mobile-action & # 39;): iframe.contentWindow.document.getElementById (& # 39; branch-mobile-action & # 39;);
btn.addEventListener (& # 39; click & # 39 ;, function (ev) { if (ev.preventDefault) ev.preventDefault ();
if (window typeof ['adwordPixelEnabled'] === & # 39; undefined & # 39;) { googlePixelLoader (); fbPixelLoader (); // configured to load only once after a click window ['adwordPixelEnabled'] = true; } }); }); branch.addListener (& # 39; didClickJourneyCTA & # 39 ;, function (o) { // just install if (branchData &&! branchData.has_app) { FsBeacon.DoubleClickFloodlightlightTracking (). Send (); } }); branch.banner ({ Icon: & # 39; https: //b.fssta.com/uploads/2016/10/fox-sports-app-icon175x175.vadapt.175.high.0.png&#39 ;, Title: FOX Sports Mobile & # 39 ;, description: & # 39; You are the fan, we will do the rest! & # 39 ;, openAppButtonText: & # 39; Open & # 39 ;, downloadAppButtonText: & # 39; Install & # 39 ;, sendLinkText: & # 39; Send link & # 39 ;, phonePreviewText: & # 39; 123-456-7890 & # 39 ;, showiOS: true, showAndroid: true, showDesktop: false, iframe: true, disableHide: false, forgetHide: 2, position: & # 39; up & # 39 ;, mobileSticky: false, desktopSticky: false, customCSS: & # 39; # branch-banner {width: 100%; z-index: 99999; font-family: "Helvetica Neue", Helvetica, Arial, sans-serif; -webkit-font-smoothing: antialiased; -webkit-user-select: none; -moz-user-select: none; user-select: none; -webkit-transition: all .25s ease; transition: all 250ms ease} # branch-banner .content {width: 100%; overflow: hidden; high: 76px; background: # f2f2f2; color: # 333; bottom edge: solid 1px # c1c1c1} # branch-banner .content .left {text-align: left} # branch-banner .icon img {width: 64px; height: 64px; right-margin: 0; radius-of-the-edge: 14px} # branch-banner-close {color: # 787878; Font size: 22px; superior: 14px} # branch-banner .title {font-size: 14px; font-weight: 400; color: # 000} # branch-banner .description {font-size: 12px; color: # 303030; height-maximum: 30px; overflow: hidden} # branch-banner .reviews {font- size: 10px; margin: 1px 0 3px; color: # ff9500} # branch-banner .reviews .star span {display: online-block; right margin: 0; color: # ff9500; position: absolute; superior: 0; left: 0} # branch-banner .reviews .star svg {fill: # fe9402} # branch-banner .reviews .review-cou nt {display: none; font-size: 10px} # branch-sms-form-container {margin-right: 0} # branch-banner .button {display: inline-block; margin-top: 0; margin-left: 5px; filling: 6px 12px; Font size: 18px; color: # 007aff; cursor: pointer; text-decoration: none; background: 0 0; edge: none} # branch-banner .button: hover {color: # 05a5ff; background: 0 0; edge: none} & # 39 ;, make_new_link: false, Rating: 4.5, reviewCount: 90, theme: & # 39; light & # 39; }, {}); } } ());
Source link